7 Things To Know Before Buying An Infiniti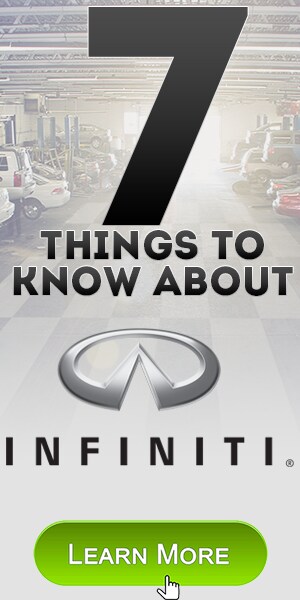 So you've ready to get behind the wheel of your new Infiniti!
1.   Infiniti is a 1989-born carmaker under the Nissan family. The brand's 2021 goals focus mainly on becoming an all-electric car company, where each one of the new vehicles will be hybrid or electric.
2.   The Infiniti brand was created for the US market, for those people that loved the Japanese quality, but at the same time, aimed to drive a luxury car. One feature that you'll find in every single Infiniti is an analog clock; it's their signature feature.
3.  Infiniti has sold more than 2.5 million vehicles since its beginnings in 1989. The Infiniti Q50 mid-sized car became the best selling model for the brand in the United States in 2017, while the QX60 Infiniti's large crossover is Infiniti's best selling SUV.
4.  Consumer Reports ranked the Infiniti Q70 among the top 10 most reliable cars of the year 2017.
5. Infiniti M35h set the mark for the fastest accelerating 100% hybrid in the world.
6. The Simmons National Consumer study surveyed Infiniti buyers and found that: Infiniti drivers are more than twice as likely as the average person to have the latest advances in-car technology.
7.  Even when it is considered a luxury brand, Infiniti's cost of ownership over 10 years goes as high as $210 in the first 3 years and up to $705 over the course of 10 years. Compared to the other luxury brands Infiniti is at the bottom of the list, which for once, is a good thing!
infiniti's unique design and Japanese signature style will give you plenty of reasons to take this baby for a test drive! Remember to take a good look at their analog clock, it's a rare sight!
The type of car you choose is important, and so is the company you choose to form a relationship with when you are ready to buy. CarVision.com received the 2019 Consumer Satisfaction Award from DealerRater. With nearly 1,000 reviews from highly satisfied customers, this locally-owned and operated dealership has a long history of going above and beyond the call of duty to turn customers into life-long friends.