7 Things You Need to Know Before You Buy a Subaru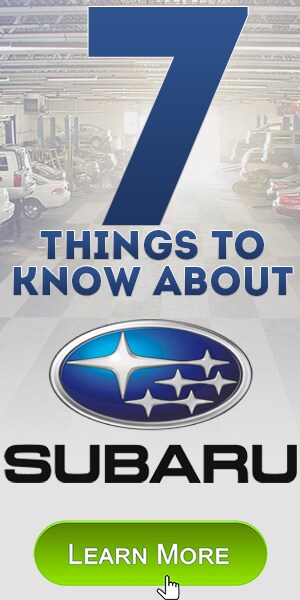 So you've ready to get behind the wheel of your new Subaru!
1. While most cars that are proven to go more than 200,000 miles are Toyota's and Honda's, the Subaru brand offers a lineup of vehicles that have a reputation for reliability. If this is a priority for you, you are in the right place.
2. Subaru is a sporty, practical, rough, and rugged option for people who don't want a giant SUV but need to be able to drive in any weather conditions.
3. For most people, the Outback is a #1 choice. It comes in six trim levels with a four-cylinder or six-cylinder engine. For the newest body style, look for a 2015 or newer.
4. If you choose the 2017 high-end touring model of the Subaru Outback, you'll get automatic high beams and reverse automatic braking.
5. Outbacks made before 2010 lack some important features like an auxiliary jack, extra interior space, key-less ignition, and the collision avoidance system.
6. U.S. News and World Report rank the Subaru Outback #3 in the Wagon category, based on 41 pieces of data and research.
7. Retail price for a used Subaru varies widely. These cars hold their value, but you'll still save thousands of dollars off of MSRP by buying a pre-owned version.
The type of car you choose is important, and so is the company you choose to form a relationship with when you are ready to buy. CarVision.com received the 2019 Consumer Satisfaction Award from DealerRater. With nearly 1,000 reviews from highly satisfied customers, this locally-owned and operated dealership has a long history of going above and beyond the call of duty to turn customers into life-long friends.