7 Things You Need to Know Before You Buy a Toyota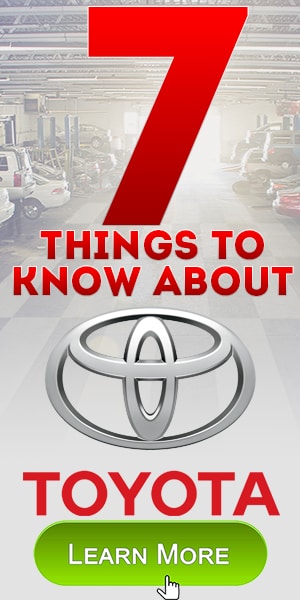 So you've ready to get behind the wheel of your new Toyota!

1. The Toyota company also owns the luxury brand, Lexus

2. 25 million Toyota's have been built in the United States. The company employs 137,000 Americans.

3. The Toyota brand ranked highest on the Consumer Reports 2018 Most Satisfied Car Buyers report for their full line of vehicles.

4. 2018 Toyota Camry made the list of top safety picks published by IIHS in 2017. New criteria include roof strength, advanced safety feature performance, and head restraint.

5. Toyota earned the J.D Power quality award, the J.D. Power dependability award, and the J.D. Power performance award in 2018.

6. Based on IHS Market vehicles in operation model years 1987 – 2017, Toyota vehicles last the longest of any brand in the United States. 80% of Toyota's sold within the last twenty years are still on the road.

7. According to Kelley Blue Book, Toyota has the best resale value of any brand.

The type of car you choose is important, and so is the company you choose to form a relationship with when you are ready to buy. CarVision.com received the 2019 Consumer Satisfaction Award from DealerRater. With nearly 1,000 reviews from highly satisfied customers, this locally-owned and operated dealership has a long history of going above and beyond the call of duty to turn customers into life-long friends.