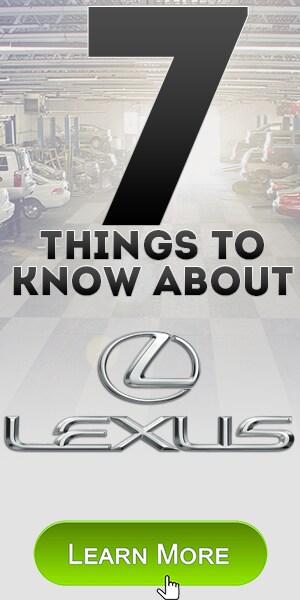 So you've ready to get behind the wheel of your new Lexus!
1. Lexus is the upscale version of Toyota. The brand's name was inspired by the name "Alexis" which was later morphed with the term "luxury" to create .

2. The luxury brand was one of the first carmakers to invest in a high-grade sound system for its cars. Apparently, sound is a very important feature for this brand. So much, that Yamaha has designed the cabin of some of its coolest cars in town.

3. Guess who sells more hybrid vehicles than any other brand? Lexus does. The best-selling hybrid from the carmaker is the Lexus RX 400h/RX 450h, with 335,000 units sold around the world as of last year.

4. Since 2002, Lexus has positioned itself in the top ratings for reliability and loyalty in the luxury cars' category for Auto Express, Top Gear, J.D. Power, and Luxury Institute.

5. In the beginning, Lexus attracted customers from the non-luxury category for its image of high-quality, but lower pricing than the other makes. Little by little, it started to acquire a following, and now its cars can surpass the $100k super-luxury standards. Not cheap anymore.

6. And, the number one selling line of luxury cars in the United States is….Lexus! Starting prices for all model run between $33,000 for the IS 250 and $77,000 for the LX 570 SUV. This marque stands at the most coveted place of all automobile brands.

7. Major Surprise! Lexus holds the third-to-last position at the "most expensive cars to maintain" list. Meaning that even though it's a luxury car with many awards under its arm, it's designed so well, that maintenance is not an issue.

Lexus, a young 29 years-old brand has achieved what most old European luxury makes wish they had. They are number one in its category for sales and for customer loyalty, along with many other positive attributes. We know you are pretty much convinced that a Lexus is the car for you, so just wanted to mention a little perk about owning a Lexus. The Performance Lexus Exchange Program allows you to trade up to a NEW LEXUS with no additional expense and keep your payment about the same or even lower your current payment! Voila!

The type of car you choose is important, and so is the company you choose to form a relationship with when you are ready to buy. CarVision.com received the 2019 Consumer Satisfaction Award from DealerRater. With nearly 1,000 reviews from highly satisfied customers, this locally-owned and operated dealership has a long history of going above and beyond the call of duty to turn customers into life-long friends.