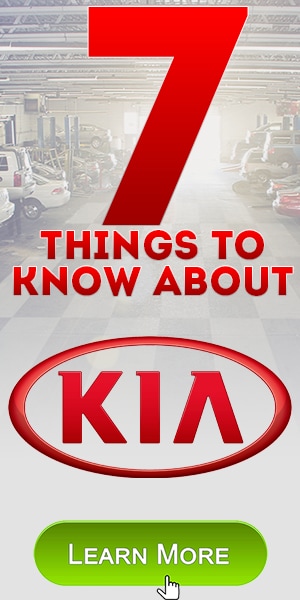 So you've ready to get behind the wheel of your new Kia!
1. KIA's top design executives come from a mix of different car makes backgrounds like: Cadillac, Audi and Volkswagen to say the least.

2. "Shark Nose" is the name of KIA's new grille, launched in 2007. Kia cars have won the International Car of the Year award every year since 2013. The "Shark Nose" design might have something to do with this.

3. 2016 was a record-breaking year for KIA, which sales surpassed 647K, the best in all-time, plus the highest sales in the 4th quarter and December! These four models sold over 100,000 units each:The Soul, Optima, Forte, and Sorento.

4. KIA's COO explained how all the awards they have received this year have been a game-changer for the brand: "Kia has never been more highly rated for quality and dependability, and customers flocked to our showrooms in December and throughout 2016 to experience all that the 'New Kia' offers." The Forte and Sportage have been significantly increasing units sold by over 24,000 for the 2016 year.

5. Kia Soul is the highest ranked "Compact Multi-Purpose Vehicle in Initial Quality" for a second consecutive year and the KIA Sportage, the highest ranked Small SUV in Initial Quality by J.D. Power.

6. If you are looking for value without breaking the bank, the Soul Base FWD 4-Dr Wagon I4 is your best option. With an above-average rating and one of the lowest prices in its category and even in the whole brand name, this model is worth a second look.

7. Known for its value pricing, KIA has been recognized as the brand with the lowest cost of ownership in a 5-year period, including a decrease in depreciation numbers as well. It's a win-win.

KIA, the second largest Korean car automaker has positioned itself in the top #1 brand for "cost for value", as well as reliability. After many years of trial and error, KIA has found the goldilocks of the car-selling formula.

The type of car you choose is important, and so is the company you choose to form a relationship with when you are ready to buy. CarVision.com received the 2019 Consumer Satisfaction Award from DealerRater. With nearly 1,000 reviews from highly satisfied customers, this locally-owned and operated dealership has a long history of going above and beyond the call of duty to turn customers into life-long friends.