The latest addition to the Mitsubishi Crossover and SUV family offers the newest 4WD technology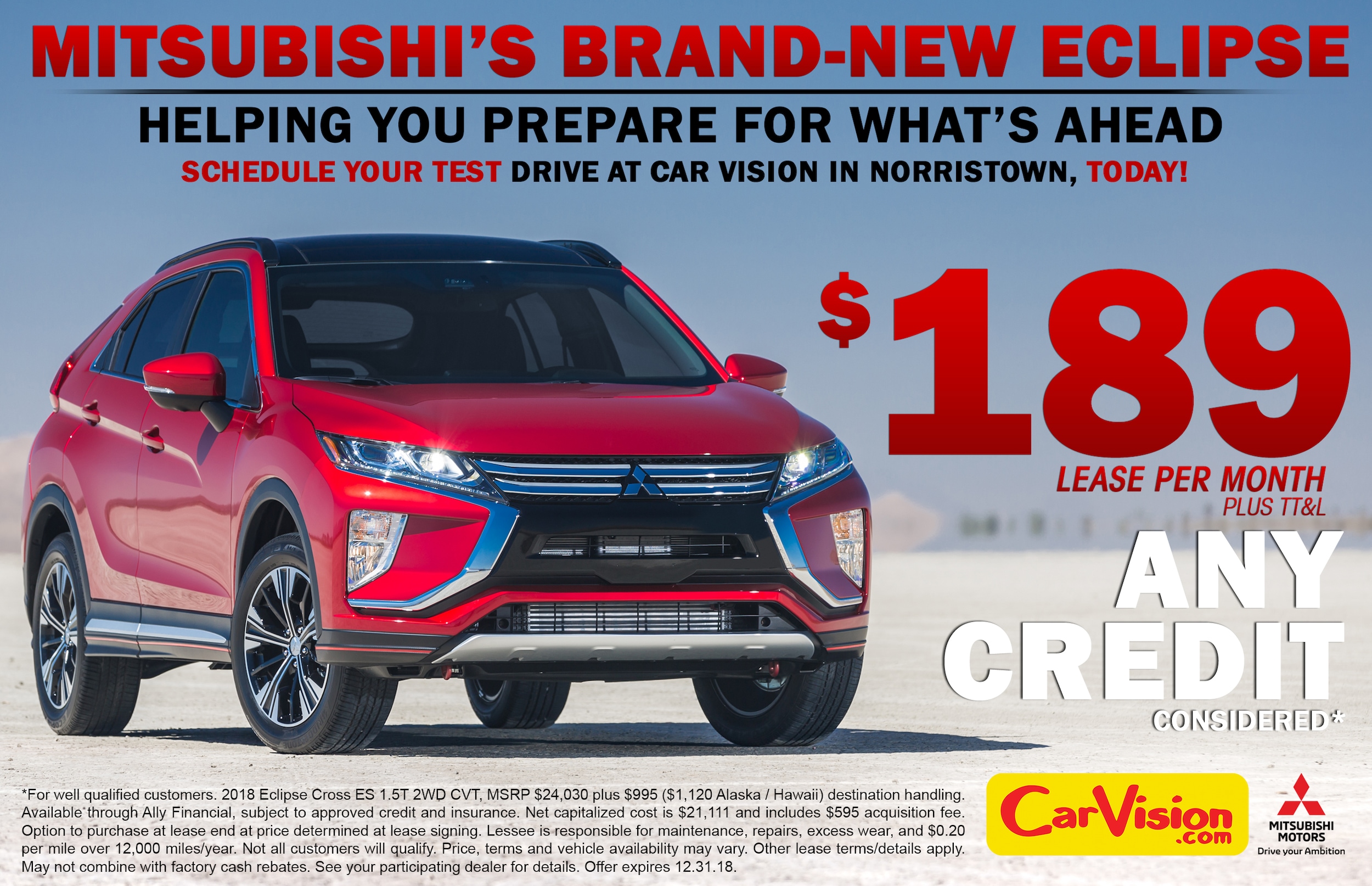 CarVision.com, together with Mitsubishi, announces the arrival of the 2018 Mitsubishi Eclipse AWD. The Eclipse, with a name resurrected from the popular sports coupe manufactured between 1989 and 2011, is the work of the visionary auto designer Tsunehiro Kunimoto. This is Kunimoto's first mass-produced vehicle, and it embodies the attention to detail, innovative style, and aggressive look that Mitsubishi drivers expect and appreciate.
Get Super All-Wheel Control technology with the 2018 Eclipse
The advanced full-time four-wheel drive system exclusive to the Mitsubishi brand offers the ultimate vehicle stability even in the most difficult driving conditions. Super All-Wheel Control (S-AWC) is a system that carefully controls the vehicle's Active Center Differential (ACD), Active Stability Control (ASC), Sports ABS, and Active Yaw Control (AYC) to allow calibrated braking force and torque regulation at each wheel, according to its individual needs.
The result is safely controlled cornering during deceleration and acceleration as well as steady state driving on loose gravel, ice, and snow. The system allows drivers to choose between Auto, Snow, and Gravel modes for enhanced stability, help to escape when stuck, and ideal 4WD performance on nearly any surface.
Mitsubishi Motors states, "the ultimate embodiment of the company's AWC philosophy is the S-AWC system, a 4WD-based integrated vehicle dynamics control system."
The first shipment of the 2018 Mitsubishi Eclipse arrives at CarVision in Norristown, PA
With a retail starting price of just under $25,000, the Eclipse is a compelling addition to the Mitsubishi lineup. It fills the gap between the Mitsubishi ASX and the Mitsubishi Outlander with the easy handling of a sports car and the interior space of an SUV.
Drivers in the Norristown, Pennsylvania area can test drive the 2018 Eclipse AWD and experience All-Wheel Control first-hand. There have been some big changes at CarVision.com with the addition of the Mitsubishi brand to this long-standing business in the community of Norristown. Team Cafiero retains their unyielding commitment to customer service.
It's a great time to check out the new 2018 Mitsubishi Eclipse. Lease yours for just $189 per month and $3,999 down until April 2.
Whether you are in the market for a new vehicle, high-quality used vehicle, or just want to meet Team Cafiero and chat about cars, stop in at CarVision.com's Norristown location or call (610) 624-6528 to speak with a Mitsubishi expert at CarVision.com.