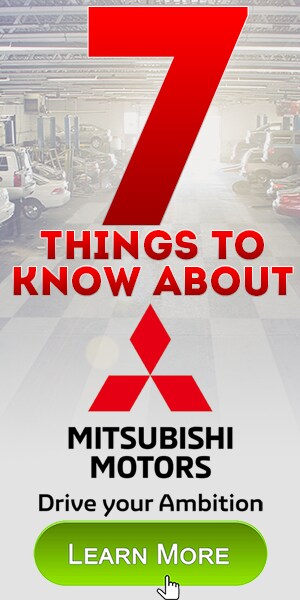 So you've ready to get behind the wheel of your new Mitsubishi!
1. Their 3 diamonds logo is not simply an aesthetic look,"Mitsu" and "bishi" means three chestnuts, which have been used by the Japanese culture as a symbol for diamonds. So clever, Mitsubishi!

2. Holding the 16th position as the largest car manufacturer in the world, Mitsubishi sells its cars in 160 out of 194 countries of the world. Over the years, Mitsu has partnered with other leading brands including Volvo, Chrysler, and Hyundai to produce vehicles sold around the globe.

3. Jackie Chan has been a longstanding partner of Mitsubishi, using only its cars for his films. He has presented new models like the Lancer Evo, to the public. Films like "Thunderbolt" and "Who Am I?" became groundbreakers for the make.

4. The Eclipse was the car that catapulted Mitsubishi to where it stands today. Good thing that after years of the model being retired from the market, it is making a come back in the form of an SUV. Have you checked it out?

5. The Gasoline Direct Injection was invented by Mitsubishi in 1995. This "greener" and more efficient engine became the industry standard, making customers and makers happier, at the same time that we protect our environment.

6. The i-MIev, the most known Mitsubishi electric car was launched in 2010 and became a World Guiness Record by being the first electric car to sell more than 10k units. On 2017 we welcomed the PHEV, which is beating the competition in every single aspect, starting with performance and pricing. BAM!

7. The Hatchback Mitsubishi Mirage makes the Motor1.com list at #1 cheapest cars to own at $15/day, with a total cost of $27,500 in 5 years. Mitsubishi takes this saving-you-money thing seriously!

This year Mitsubishi has launched amazing new models, one of them revives the discontinued Eclipse, bigger and better; and the other one introducing the super quiet PHEV Outlander that can change from electric to hybrid just as desired! We have both options waiting for you at our authorized Mitsubishi CarVision dealership!

The type of car you choose is important, and so is the company you choose to form a relationship with when you are ready to buy. CarVision.com received the 2019 Consumer Satisfaction Award from DealerRater. With nearly 1,000 reviews from highly satisfied customers, this locally-owned and operated dealership has a long history of going above and beyond the call of duty to turn customers into life-long friends.