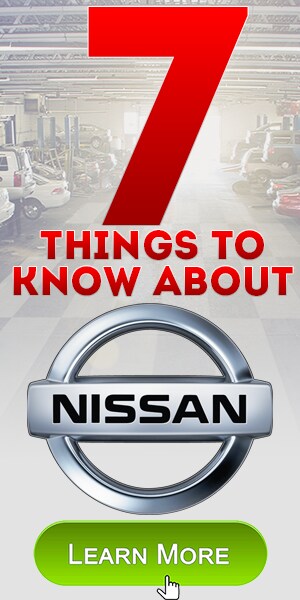 So you've ready to get behind the wheel of your new Nissan!
1. In 2013, Nissan was the sixth largest automaker in the world, after Toyota, General Motors, Volkswagen Group, Hyundai Motor Group, and Ford. But in these 3 countries, it is the leading Jap make:China, Russia and Mexico. And those two facts are simply amazing!

2. In 2017, the Rogue became the most popular crossover SUV in the nation because of its savvy design, consumer trends, strategic marketing and a little help from the force.

3. Nissan is the 9th most popular car maker and the 4th most famous. Nissan is described by fans as: Well made, Good quality, Good value for money, Stylish and Excellent customer service by the brand perception website YouGov.

4. The 2011 Versa has been named one of the most reliable models of the sub-compact category. Consumer Reports describe it as a class act. Some of the attributes that are mentioned are: an absorbent ride, a smooth powertrain, a quiet cabin, and a roomy rear seat.

5. Guess who is the the largest electric car maker? Of course, Nissan is. And not only that, global sales were at 300,000 in 2017. Light as a Leaf (pun intended) this champion is the top-selling highway-capable plug-in electric car in history.

6. The Nissan GT-R, as the rare gem it is, retains 61% of its value after 3 years, joining the Frontier for the same percentage in the Forbes list of the cars with the best resale values. Some cars just stay magical.

7. If you are looking for a very low cost car in a 5-year span, the Versa S makes the cut! At a very low depreciation rate, this is a car you can't miss!

With an impeccable track record, Nissan has quite a reputation for technology and reliability! Don't miss an opportunity to get into one of the most acclaimed models of this make. From coupes to SUV, the Nissan reputation doesn't disappoint! We have plenty of options waiting for you at our CarVision Dealership!