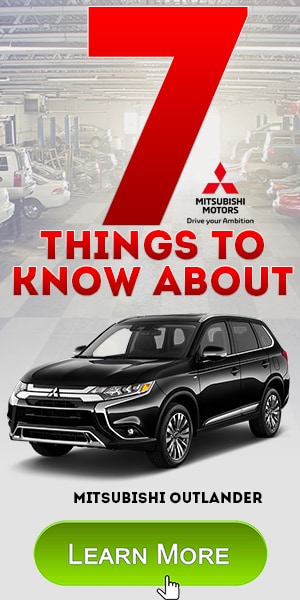 So you've ready to get behind the wheel of your new Mitsubishi Outlander!
1. In 2017, Mitsubishi broke a 10-year sales record in the United States. This 100-year-old company has Japanese roots with assembly and manufacturing plants and sales hubs in 160 countries.

2. U.S. News and World Report puts the 2018 Outlander in the top 20 SUVs for sale in the United States. It's one of the few small SUVs you can buy with a third-row seat and good gas mileage.

3. The Outlander's competitors, the Mazda CX-5, Honda CR-V, and Volkswagen Tiguan are much more expensive options.

4. This vehicle has one of the longest new-car warranties available, which makes buying the newest model year a smart move.

5. An entry-level 2018 Mitsubishi Outlander retails for $23,945 with the ES trim. Check out dealer incentives for an even lower price.

6. With all seats folded flat, the 2018 Mitsubishi Outlander offers more than 63 cubic feet of cargo space. With the second row up, you'll get 34 cubic feet.

7. The Outlander is great for city driving. The four-cylinder engine gets 25mpg in stop-and-go traffic and at slower speeds. This is a great mileage rating for an SUV with third-row seating.

The type of car you choose is important, and so is the company you choose to form a relationship with when you are ready to buy. CarVision.com received the 2019 Consumer Satisfaction Award from DealerRater. With nearly 1,000 reviews from highly satisfied customers, this locally-owned and operated dealership has a long history of going above and beyond the call of duty to turn customers into life-long friends.