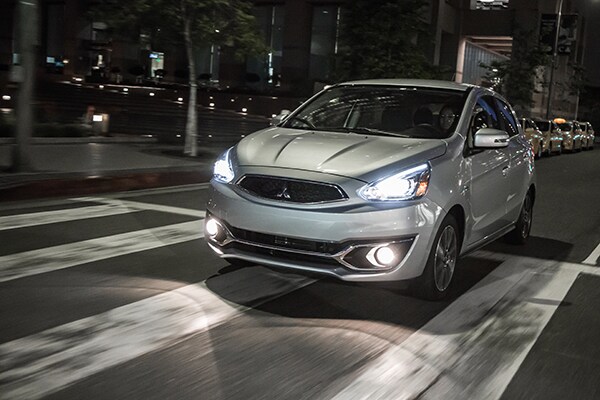 For car shoppers in the market for a compact hatchback with outstanding fuel economy at a budget-friendly price, the Mitsubishi Mirage is an ideal choice.
For drivers who love a Mitsubishi and want an economical choice with Mitsubishi's outstanding industry-leading warranty, the Mirage is the way to go. The 2018 version has enhanced features to make driving more fun.
With a comfortable ride, high-performing CVT, and plenty of cargo room, the 2018 Mirage is a dream-come-true compared to the 2018 Toyota Yaris or the 2018 Honda Fit. While both competitors are compact and in the same general price range, the Mitsubishi Mirage comes out on top.
With the Yaris, you'll get only 30mpg in town and 36mpg on the highway. The Honda Fit gets 29mpg in town and 36 on the highway. With the Mitsubishi Mirage, you'll go much further (377 miles to be exact) on a tank of gas, with 33mpg in town and 41mpg on the highway.
The Mitsubishi Mirage is a four-door hatchback with room for passengers in the back. The Yaris is a three-door liftback so getting into the back seat is a challenge for anyone larger than a child.
With the Mirage, you get features that the Honda Fit and the Toyota Yaris can't offer with their compact hatchbacks. Fog lights are standard with the Mirage, but the Fit and Yaris can't offer this important safety feature. Other standard features with the Mirage include keyless entry, tire pressure monitoring, steering wheel controls, and HD radio.
Why buy a brand-new Mitsubishi Mirage from Car Vision?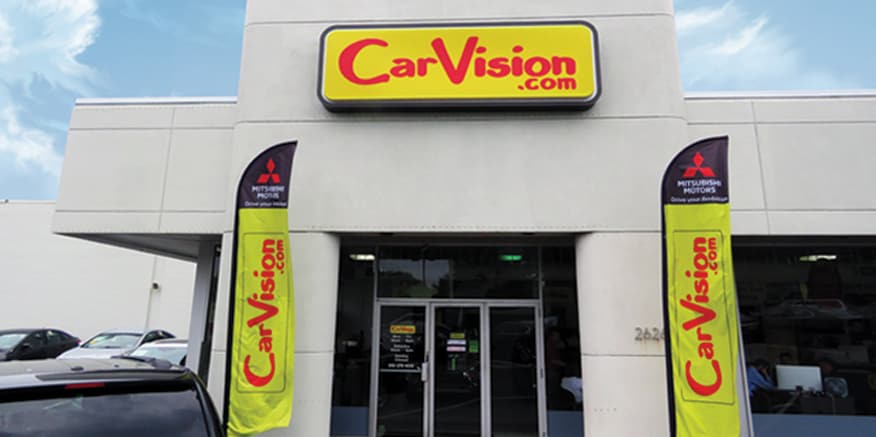 The experts at Edmunds.com have this to say about our outstanding compact hatchback:
When new, it's one of the cheapest cars you can buy. If you're on a tight budget, the Mirage represents a viable new-car option that also gets you the warranty and financing benefits that come with it. -Edmunds
You'll pay a lot less for a Mirage than you will for a Yaris or Fit. The Mirage starts at just $13,395. The Yaris will set you back $15,635 for the base model. The Fit is even more expensive, with a starting price of $16,190.
The warranty offered by Honda and Toyota just doesn't compare to Mitsubishi's warranty on the Mirage. With the Mirage you'll get a 60-month/60,000-mile basic warranty. Your powertrain is covered for 120 months or 100,000 miles. You'll even get Roadside Assistance for 60 months with unlimited mileage. This means that during the first FIVE years you drive your new Mirage, your repair costs are $0.
Yaris drivers get a basic warranty from the factory of just 36 months/36,000 miles. Their powertrain warranty is cut in half as compared to the Mirage's powertrain warranty. They'll get free Roadside Assistance, but only for the first two years of owning the Yaris.
Honda Fit drivers get the same basic warranty and powertrain warranty as Yaris drivers. They'll get free Roadside Assistance for three years, but that coverage still doesn't compare to the Mirage's FIVE years of free Roadside Assistance.
Choosing your 2018 Mitsubishi Mirage
You'll get several trim options. The base model is available with a manual or Continuously Variable Transmission (CVT).
2018 Mitsubishi Mirage ES Manual
$13,395
2018 Mitsubishi Mirage ES CVT
$14,595
2018 Mitsubishi Mirage SE CVT
$16,095
2018 Mitsubishi Mirage GT CVT
$16,595
These numbers are the manufacturer's suggested retail prices (MSRPs) and are set by Mitsubishi. Consult the experts at Car Vision Mitsubishi in Norristown to learn about special deals and incentives. You could end up paying even less for your new Mirage.
The 2018 Mitsubishi Mirage is now available in three different trims: the 2018 Mitsubishi Mirage ES, the 2018 Mitsubishi Mirage SE, and the 2018 Mitsubishi Mirage GT.
The 2018 Mitsubishi Mirage ES has a 6.5-inch display audio system with Smartphone Link, Apple CarPlay, and Android Auto. You can enjoy wireless streaming as well as hands-free communication.
New for 2018, rearview camera and Bluetooth are standard. You'll even get hill-start assist, which holds your brakes for a few seconds after you lift your foot off the brake pedal to keep you from accidentally rolling backward on hills.
The 2018 Mitsubishi Mirage has a 1.2L MIVEC DOHC 3-cylinder engine, producing 78 horsepower.
With a stylish, sporty exterior, the Mitsubishi Mirage is available in eight colors:
Pearl White

Starlight Silver

Infrared

Wine Red

Mercury Gray

Sapphire Blue
Sunrise Orange

Mystic Black
The only way to know if the 2018 Mitsubishi Mirage is the right car for you is to take it for a test drive. Let the knowledgeable and helpful Mitsubishi experts at Car Vision help you get into the economical and fun-to-drive Mirage.